Truck Modifications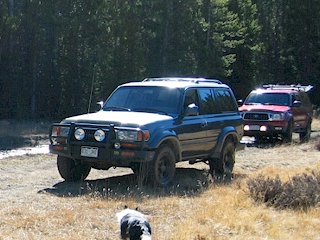 I bought my truck in October 2003 fairly stock except for the front and rear TJM bumpers. The factory lockers, straight axle, and room for the entire family was what I wanted and after a good month of searching I finally found my dream truck. The photo on the right is my truck on my first outing to the Green Ridge Trail which is about 60 miles west of Fort Collins off Hwy 14.
Since then I have added:
3" Body Lift from Marks4WD.com
1" Coil Spacers in front from SleeOffroad.com
OME Steering Stabalizer
OME Caster Correction Bushings
New Exhaust system that re-routed the pipes back up into the body after the 3" body lift for maximum clearance.
Custom sliders :)
5.29 Yukon gears (setup myself...pretty scary huh?)
WARN 12,000lb winch
Took off the fender flares cause they were getting in the way. Roll-on coating along entire sides. Walmart special :)
15# Ultimate Air CO2 Tank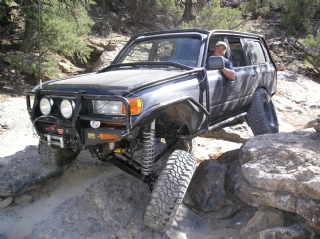 Here is what my cruiser looks like now. I absolutely love this machine and how capable it has become. But I'm not done yet....
Future Mods (wish list):
Cruiser Crawler Case from Marks4WD.com (sitting in my garage :)
Exo Cage and new rear bumper/tire carrier (almost done!)
Recent Modifications


May 2006 - Cruiser Crawler Box. This box is a 3.05:1 add-on box. This will essentially triple my current crawl ratio. With 40" tires and 5.29 gearing in my diff's my stock ratios just didn't give me enough low end muscle I needed to take on the insane obstacles. Hopefully with his new box I will have even more control crawling with less breakage. more details

March 2006 - Full Exo Roll Cage and Rear Bumper / Hitch / Tire Carrier. I've been wanting to do this for a long time. Finally made up my mind it was time. more details

January 2006 - 3 Link Front Suspension. Time to ditch those stock radius arms and get some flex :) What am I getting myself into now?...more details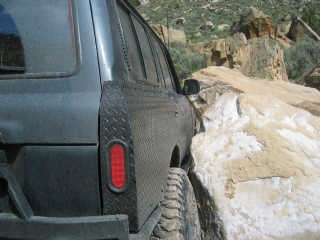 April 29, 2005 - Side Armor with LED's. Just in time for 21 Road. These side plates are made from 1/8" tread plate (diamond plating). Bending them was the biggest chore of all but they are so strong. I tested them out good on 21 Road and they didn't show any signs of bending at all...more details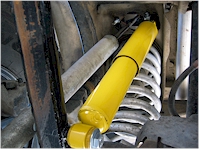 March 1, 2005 - 4 Shock Rear. I finally got around to my dual shock idea for the rear of my FJ80. I had the 14" Bilsteins but I found my self bottomming out frequently and my whole truck swayed pretty easily on/off road so I decided to add some more shocks to the rear.....more details

February 7, 2005 - Chromoly FJ80 Birfields. I had some worn birfields that didn't last long with my new 40's. I busted both of them at Carnage Canyon. This was the first time I have ever broke a birfield on the trail.....more details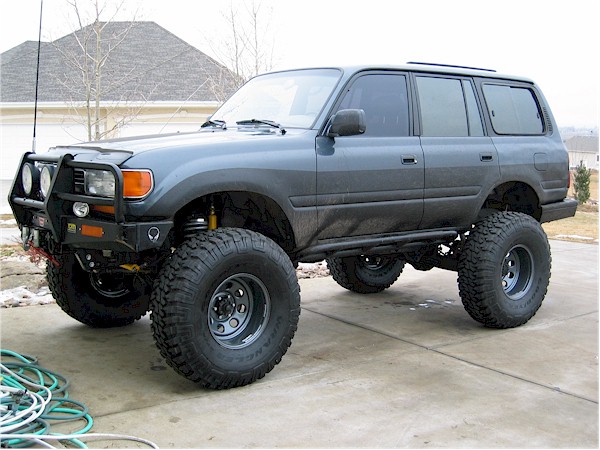 January 11, 2005 - 40" MTR's!! I finally went for it :) I sold most of my old junk to pay for these monsters. Ben Swain from Slee Offroad told me of a GoodYear shop that had some 40's that they wanted to get rid of. ....more details

December 31, 2004 - I decided to move down my front shock mounts about 5" because I wasn't getting enough droop in the front. ....more details

December 20, 2004 - True Design Wheels. Just mounted some new 17x9 2" backspaced wheels!! Now I'm 6" wider and I feel great! ....more details

October 12, 2004 - 14" Bilsteins and new shock hoops. With the new Slee 6" springs I got around 3" more travel and needed new longer shocks. I looked around and asked a few friends what they used and Bilsteins were the answer....more details

October 3, 2004 - 6" Slee springs, sleeved drag link, tie rods, new tie rod ends, modified both panhard rods so they are adjustable, installed OME castor bushings, lengthened rear upper control arms.

Summer 2004 - New Exhaust System. After the 3" body lift there was now plenty of room to push up the entire exhaust system. I went down to Fort Collins Muffler to get the job done....more details