Home

Trail Runs

Mods


Calendar

Tech

Links

For Sale


Contact
Crown Point


Hells Revenge


Billings Canyon


7.2MB
Truck Modifications - April 29, 2005
Side Armor Plates with LED's
Just in time for 21 Road :) These side plates are made from 1/8" tread plate (diamond plating). Bending them was the biggest chore of all but they are so strong. I started out with 1/4" thick plates but the weight didn't justify the purpose. 1/8" plate is still pretty heavy if you consider the almost 4 foot section on each side! The purpose here is not to protect the sides when laying the vehicle on it's side but to protect from trees and rocks rubbing up on the sides. I tested them out good on 21 Road and they didn't show any signs of bending at all. They just let me scrape along the rocks. Compare the damage I got last year.
Last year I bolted some slider bars to my body but the rocks ended up scraping above/below them. Plating was the only real solution...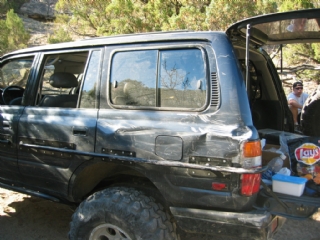 So this year I fabbed up some armor plates. No more broken tail lights and body damage!