Home

Trail Runs

My Buggy

Links

Contact
Trail Runs - WarPath - NM
Monday, February 18, 2008
Visitors: 243417


22 Photos

3 Videos

This is one of the most extreme rock crawling trails out there. Definately a favorite! Located in southern New Mexico this trail features one huge waterfall at the beginning and then some great crawling action with huge boulders and ledges. Our whole group made it through in a few hours with no real carnage. I would rate this trail a 9 or 10 on my extreme list. This one kept a smile on my face the entire time. And you know I'm coming back next year!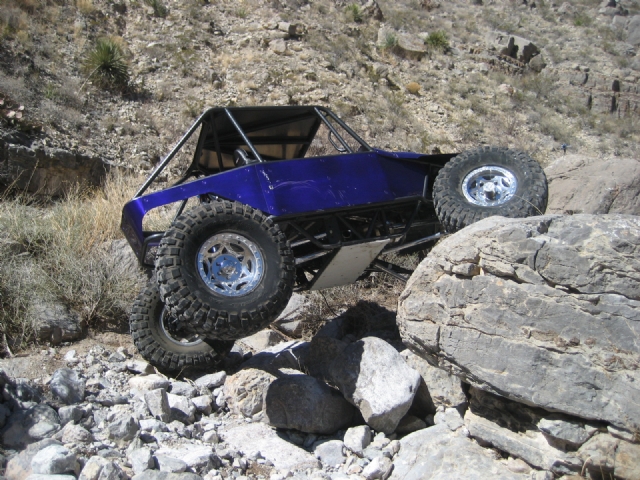 Steve had some fun on this obstacle!
Photo Gallery - View as SlideShow (small) View as SlideShow (large)





















WarPath New Mexico Extreme Rock Crawling Part 1
Size: 8 min
Part 1 shows the first 2 obstacles on this trail. A great little crawling obstacle with 2 ledges then comes the huge waterfall. Captain Crunch was the only one who made this waterfall unassisted. I may try it next year when I have a little more guts :)
WarPath New Mexico Extreme Rock Crawling Part 2
Size: 10 min
Part 2 starts out showing me on the waterfall. I split the screen and showed you picture in picture of what I'm seeing as what the buggy looked like. Also features more rock crawling action and Steve's buggy on it's side. More great crawling is found after the first waterfall.
WarPath New Mexico Extreme Rock Crawling Part 3
Size: 9 min
Last part of the series shows video from inside the buggy looking forward. This gives you a great idea what I'm seeing as I crawl over some of the obstacles. Jack's buggy is right in front of me during most of this video. You can see how wide he is and how well he crawls.