Trail Runs - Labor Day Weekend 2005
Saturday, September 3, 2005
Visitors: 20680


66 Photos
2 Videos

We met up 8am in Fort Collins with a total of 3 rigs and headed to Carnage Boulder. Nice thing about hiting this trail in the morning is you beat the crowd. Actually we didn't see anyone at carnage that day which was a welcome surprise. We all had fun playing and had no carnage except for when I attempted to go between 2 trees early in the trail. Whoops!

After Carnage we headed to Jenny Creek. This trail was only about 40 min south of carnage. Met up at 2pm right on time in Rollinsville which is just south of Nederland. After waiting around for our 4th rig (Chip) to meet up we decided to just start the trail and meet up with Chip that evening at the lake. Jenny was a nice easy trail from what I remember and the lake at the end was fun to camp. It took us only 40 min to run the entire trail. Jason decided to break his rear axle at the lake screwing around on a rock :) Had to rub that in Jason....sorry man! Luckily he had some extra ubolts and got it back together that night. However he actually bent and cracked his housing so he was toast for the rest of the trip. Chip found us at the lake which was a miracle.

We all headed south to Idaho Springs to make our next run at Spring Creek. Jason ditched his truck and hopped in with Josh. First impressions of Spring Creek were really fun. The first obstacle was fun but the next hour of so was a bunch of climbing with no real obstacles. We passed obstacle #2 without even realizing it. Obstacle #3 was also fun and the boulder field at the top was really fun. I would rate this trail a 6 or 7. Saw lots of stock vehicles up there which was cool.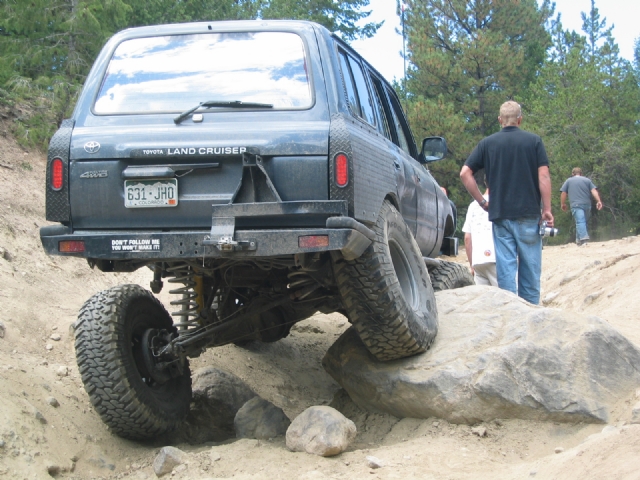 This is right after the first obstacle of Spring Creek coming up out of the first obstacle. If I can just get my front end to flex like my rear I would be VERY happy.
Photo Gallery - View as SlideShow
































































Labor Day 2005 - High Speed Connection
Size: 15.5MB

Labor Day 2005 - Dialup Connection
Size: 4.7MB