Home

Trail Runs

Mods


Calendar

Tech

Links

For Sale


Contact
Trail Runs - Carnage Canyon
Wednesday, March 2, 2005
Visitors: 16595


53 Photos
4 Videos

Zach finished his solid axle conversion on his 86 Toy and we decided to test out everything at Carnage Canyon Boulder. We had a blast. In fact Zach's Toy did every obstacle my cruiser could do and more!! We both showed off on most of the obstacles including conquering the "Waterfall".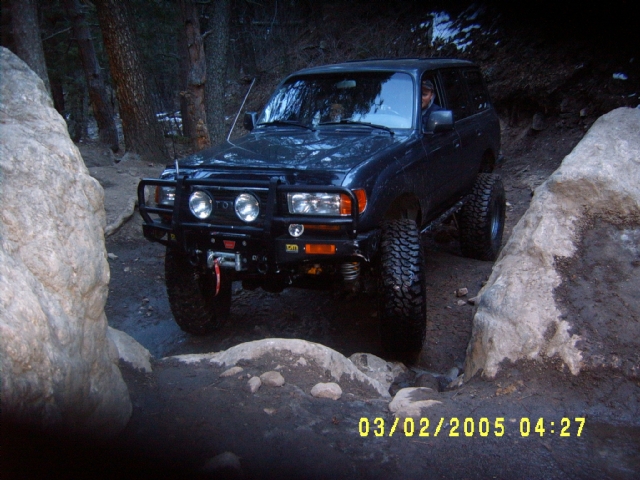 I finally did it!!!
Photo Gallery - View as SlideShow



















































Zach and Shawn
Size: 8.6MB
Zach and Shawn playing around on one of the first obstacles at Carnage Canyon.
Left Hand Canyon
Size: 6.7MB
One of the only fun obstacles at Left Hand Canyon Boulder. Everything else is a walk in the park
Zach at the Waterfall
Size: 5.42MB
Zach's axle swap really paid off today. Even with 33's he got right up this one.
Shawn at the Waterfall
Size: 8.5MB
First time ever that I have been able to do the waterfall. I thought I got some body damage but there wasn't a scratch!!