August 24, 2002
Holy Cross Trail is located about 15 miles south of Vail, CO - This is my best trail to date because of it's toughness. It is rated 8 out of 10 on the difficulty scale. At the entrance of the trail there is a big sign that warns people about body damage, etc.
"33 inch tires and locking differentials are recommended" it read...
We headed up the trail with our gang. My brother Corwyn with hist stock jeep!! and Jay in his GMC full-size Blazer. The trail is not too bad the first mile then it becomes more intense.
Unfortunately Jay's rear differential snapped at this point which was a big bummer!! We didn't have enough time to continue on the trail because we were concerned about how we were going to get him home!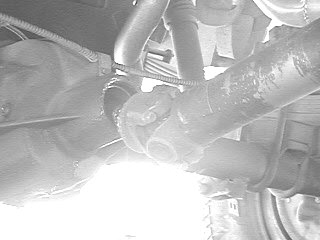 Here's a great pic of a Hummer going through a river near the trail. I guess they have tours they run for tourists looking to get a thrill.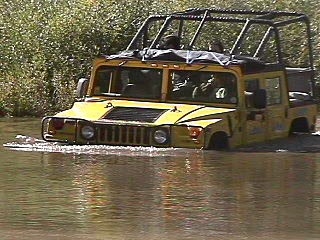 We ended up going all the way back to Fort Collins and picking up a trailer and a V8 to pull him home. Major dissapointment for the day but oh well! Next time we'll conquer this one for sure.
This trail is best run if you can campout atleast 1 night and take your time and enjoy it.